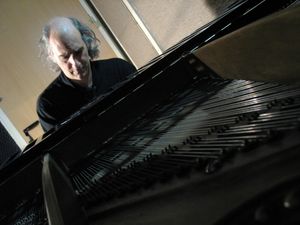 PEDRO MENÉNDEZ  es un prolifico compositor con un estilo único y ecléctico que encuentra sus multiples influencias en elementos del jazz, los ritmos latinoamericanos (tango, chacarera, candombe, zamba, bossa nova) y la música clásica contemporánea.  
Reconocido como uno de los más innovativos creadores dentro de la música de fusión de vanguardia en la Argentina desde la década de los '80, Pedro Menéndez propone un concepto Sudamericano diferente.  
Sus melodías son líricas y elaboradas. Sus obras, ricas en armonía, modulaciones y desarrollados contrapuntos. Los ritmos tradicionales del continente son re-interpretados a través de prolíficas poliritmias y una variada instrumentación.  
Virtuoso multi-instrumentista, Pedro Menéndez cambia del Piano a la Guitarra, Flauta Traversa, Saxo Soprano y Bandoneón con deslumbrante habilidad.  
Nació en Buenos Aires el 10 de Septiembre de 1957.  
Ha estudiado Guitarra con los prestigiosos maestros Oscar Aleman y Miguel A. Girollet, Piano con Humberto Dall'orso  y Claudio Espector (entre otros), Flauta Traversa con Cecilia Tenconi y Arturo Schneider, Audio y Teoría con Hilda Herrera, Contrapunto con Pablo Ortiz, Armonía y Composición con Pedro Aguilar, además de haber asistido a la carrera de Composición  de la U.C.A. Toca también Bandoneón, Saxo soprano y Oboe.  
Ha dirigido ensambles propios desde el año 1979, habiéndose presentado con material de su autoría y diversas formaciones instrumentales en numerosos destacados ámbitos culturales de nuestro país, incluyendo el Teatro Avenida, Centro Nacional de Música, Auditorio de Radio Nacional Bariloche, Casa del Fondo Nacional de la Cultura, Auditorio de la AMIA, Festivales Buenos Aires Jazz y otras músicas, Mar del Jazz, Festival de Música de Costa del Este, BAFIM (Bs As Feria Internacional de la Música), Centro Cultural Recoleta, Salón Rojo de la Facultad de Derecho de la Universidad de Buenos Aires, Ciclo Gallery Nights, Notorious, La Jalapeña, Auditorio del SADEM, Clásica y Moderna, entre muchos otros.  
Ha realizado 17 trabajos discográficos con composiciones propias  y la participación de destacados músicos internacionales como Osvaldo Fattoruso, Rodolfo Mederos, Marcelo Nissinman, Bernardo Baraj, Rubén Rada, Cuarteto de Cuerdas de integrantes de la Orquesta del Teatro Colón, etc.  
En el ámbito de la música clásica contemporánea, ha compuesto un Concierto para Vibrafón y Orquesta de Cuerdas dedicado al solista argentino Daniel Serale, estrenado durante el Festival Internacional de Percusión de la Patagonia 2006; grabado un Concierto para Guitarra y Orquesta; un Album de 20 Piezas para Piano " Viaje por Latinoamérica" sobre rítmicas latinoamericanas y otras diversas obras de cámara.  
Ha compuesto música incidental para televisión, teatro y cine (Argentina y Alemania /Escuela de Cine de Munich). Entre sus trabajos más recientes, se destaca su nominación en el 27º Festival Internacional de Cine de Mar del Plata 2012 al Premio "Mejor Banda de Sonido Original" – Premio SADAIC  por el film documental "Santa Lucía", de la directora argentina Andrea Schellemberg.  
Cuenta con una extensa trayectoria de giras en vivo en el exterior, habiendo realizado presentaciones en radios, TV, conciertos en vivo, festivales de jazz, universidades y teatros de Brasil, España, Francia, Noruega, Alemania, EEUU, Canadá y China, incluyendo multiples ediciones de SXSW MUSIC FESTIVAL (Austin, Texas, EEUU), CANADIAN MUSIC FEST (Toronto, ON, CANADA), BRASIL MUSICA & ARTES, FESTIVAL DE INVERNO SESC (Rio de Janeiro, BRASIL), entre otros.  
Como músico sesionista, ha tocado también a lo largo de su trayectoria con reconocidos músicos de la escena local, como Luis Salinas, Agustín Pereyra Lucena, Daniel ´Pipi´ Piazzolla, Lito Nebbia, Egle Martín, Bossa N'Stones, Les Luthiers, entre muchos otros.  
Desde el año 1986, es Titular y Director Artístico del sello discográfico argentino CONTEMPORANEO ART MUSIC, que incluye en su catálogo géneros como el tango, jazz, fusión y música clásica contemporánea de Argentina.
Multifacetic and prolific composer, PEDRO MENÉNDEZ has an unique eclectic style of blending jazz, Latin American rythms (tango, chacarera, candombe, zamba, bossa nova) and contemporary classical elements. 
Recognized as one of the most innovative creators of the avant-garde fusion style in Argentina since the 80's, Pedro Menendez proposes a different South American concept. 
His melodies are lyric and complex. Pieces are rich in harmonic modulations and elaborated counterpoints. Traditional local rythms are re-interpreted on polirythms variations, irregular meters and a varied instrumentation. 
As a virtuous multi-instrumentalist, he changes from the Piano to the Guitar, Flute, Soprano Sax and Bandoneon with dazzling ability. 
He was born in Buenos Aires in 1957 and has been dedicated to the music since he was 7 years old. 
He studied with professors like the worldwide known Oscar Aleman (Josephine Baker's jazz guitarist), Arturo Schneider (Astor Piazzolla´s flutist) and the contemporary classical guitarist Miguel Angel Girollet, among others. He also attended the Composition Career at the UCA. 
As composer and multi-instrumentalist, he has recorded 17 discographic works of his own with the participation of well-known musicians like Osvaldo Fattoruso on drums (latin jazz Band 'Opa'), Rodolfo Mederos & Marcelo Nissinman on bandoneon, percussionist Rubén Rada, musicians from the Colón Theatre orchestra, among many others. 
Locally & internationally, he has toured and performed in numerous cultural venues, festivals, TV and radio shows in Argentina, US, Canada, Norway, Germany, Spain, France and Brazil, including multiple eiditions of SXSW MUSIC FESTIVAL (Austin, Texas, US), CANADIAN MUSIC FEST (Toronto, ON, CANADA), BRASIL MUSICA & ARTES, BAFIM BA International Music Fair, FESTIVAL DE INVERNO SESC (Rio de Janeiro, BRAZIL), among many others. 
As sessionist, he has recorded and performed with many distinguished colleagues of the Argentinian scene like Luis Salinas, Agustin Pereyra Lucena, Guillermo Reuter (2004 SGAE Award), Daniel "Pipi" Piazzolla, Lito Nebbia, Bossa N'Stones, Les Luthiers, etc. 
He has composed incidental music for television, publicity, theatre and cinema (Argentina and the Munich School of Cinema). Among his most recent works in this field, Pedro Menendez has been nominated as best composer for the 27th Mar del Plata International Film Festival under the Category Argentine Panorama (Film: "Santa Lucia / Saint Lucia"). 
In the field of contemporary chamber music, he has written several pieces including a concert for Vibraphone and Strings dedicated to the Argentinian Soloist Daniel Serale (premiered on the International Percussion Festival of Patagonia, Argentina, 2006), a concert for Marimba dedicated to the Mexican well-known Soloist Javier Nandayapa, a work of 20 pieces for Piano based on Latin American rythmics ('Viaje por Latinoamérica'/Voyage through Latin America' Book I / Book II) and a concert for Guitar and Orchestra. 
Since 1986 he is Owner and Artistic Director of CONTEMPORANEO ART MUSIC, an Argentinian Record Label dedicated to genres as tango, jazz, crossover, world and contemporary classical music.